Muse - Absolution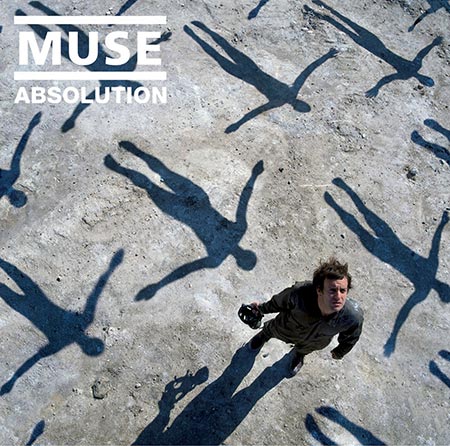 Noter
Titre : Absolution
Date de sortie  : 29 Septembre 2003
Durée : 52 minutes et 09 secondes
Producteur : Muse
Absolution est le troisième album studio du groupe. Il est sorti le 29 septembre 2003 au Royaume-Uni et six mois plus tard, le 23 mars 2004, aux États-Unis par Taste Music Limited. Cet album s'est classé numéro un des ventes au Royaume-Uni et en France et a permis au groupe de commencer à percer aux États-Unis grâce aux singles Time is Running Out et Hysteria.
 Liste des titres
B-sides
Le troisième album de Muse, Absolution, sort en septembre 2003, précédé par son premier single Stockholm Syndrom ». Certaines chansons ont été écrites pendant la tournée Origin of Symmetry et Hullabaloo.
Pour une fois, ils ont pu écrire et enregistrer l'album sans contrainte de temps. Les principaux thèmes explorés dans l'album sont la peur, la méfiance, mais aussi l'épanouissement et la joie. Le déclenchement de la guerre d'Irak pendant l'enregistrement de l'album a également influencé son écriture. Les genres sont très variés et mettent à jour la diversité des registres sur lequel le groupe peut jouer, allant du rock à des chansons plus planantes.
La pochette de l'album a été conçue par Storm Thorgerson, qui a par le passé notamment collaboré avec Pink Floyd et Led Zeppelin. Le succès commercial est au rendez-vous, l'album s'étant classé directement premier des charts britanniques et français, même si le succès est beaucoup plus modéré aux Etats-Unis.
Certaines chansons comme Time Is Running Out ou Hysteria font désormais partie des chansons les plus connues du groupe.
Les coulisses de l'album sont disponibles ICI

A l'occasion des dix ans de l'album, nous avons réaliser une page entièrement dédiée à la création de cet opus : la possibilité de voir le making of d'Absolution qui est disponible sur la version CD/DVD de l'album, ainsi que la traduction d'une interview de Rich Costey, producteur de l'album, datant du moment de la sortie de l'album !
La traduction est disponible ici.