Muse - Dead Inside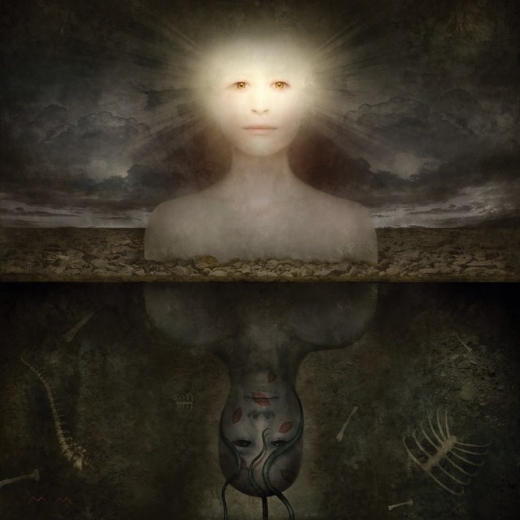 Noter
Informations sur le titre Dead Inside de Muse
Titre : Dead Inside
Durée : 4:23
Sortie : 23 mars 2015
Producteur : Muse
Artwork : Matt Mahurin
Dead Inside le premier single extrait du nouvel album du groupe Muse : Drones. Le titre est disponible depuis le 23 mars 2015.
Matt à propos du titre Dead Inside :
« Il s'agit du moment où l'histoire de l'album commence, où le protagoniste perd espoir et devient 'Dead Inside' (Mort intérieurement), et donc vulnérable à la force obscure présentée dans 'Psycho' et dans les chansons qui s'ensuivent sur l'album, avant qu'éventuellement il ne déserte, ne se révolte et défasse ces forces obscures plus tard dans l'histoire. »
Une version live de Dead Inside à été enregistré à Brighton et sera disponible dans l'édition DVD bonus de Drones.
Retrouvez ci-dessous les traductions françaises et les paroles de la chanson Dead Inside de Muse.
Choisissez votre langue :
Revere a million prayers
Révère un million de prières
And draw me into your holiness
Et attires moi dans ta sainteté
But there's nothing there
Mais il n'y a rien là-bas
Light only shines
La lumière ne brille
From those who share
Que de ceux qui partagent
Unleash a million drones
Libère un million de drones
And confide me
Et enfermes moi
Than erase me babe
Puis effaces moi bébé
Do you have no soul ?
N'as-tu point d'âme ?
It's like I died long ago
C'est comme-ci c'était mort depuis longtemps
Your lips look warm to the touch
Tes lèvres sont chaudes au touché
You can bring me back to life
Tu peux me ramener à la vie
On the outside you're a blaze and alive
De l'extérieur tu est en feu et en vie
But you're Dead Inside
Mais tu es mort à l'intérieur
You're free, to touch the sky
Tu es libre de toucher le ciel
While I am crushed pulverised
Pendant que je suis écrasé et pulvérisé
Because you need control
Car tu as besoin de contrôle
Now I'm the one
Maintenant je suis celui
Who's letting go
Qui abandonne
You like to give an inch
Tu aimes donner un coup de pouce
While I am giving infinity
Alors que je donne l'infini
But now I've got nothing left
Mais maintenant je n'ai plus rien
You have no cares
Tu n'as plus aucuns soucis
And I'm bereft
Et je suis libéré
Your skin feels warm to caress
Ta peau semble chaude au touché
I see magic in your eyes
Je vois de la magie dans tes yeux
On the outside you're a blaze and alive
De l'extérieur tu es en feu et en vie
But you're Dead Inside
Mais tu es mort à l'intérieur
Feel me now, hold me please
Ressens moi maintenant, prends-moi s'il te plait
I need you to see who I am
J'ai besoin que tu vois qui je suis
Open up to me Stop hiding from me
Ouvres-toi à moi, arrêtes de te cacher de moi
It's hurting babe only you can stop the pain
Cela me blesse bébé, Il n'y a que toi qui puisses arrêter la douleur
Don't leave me out in the cold
Ne me laisses pas dehors dans le froid
Don't leave me out to die
Ne me laisses pas dehors mourir
I gave you everything
Je t'ai tout donné
I can't give you anymore
Je ne peux plus te donner
Now I've become just like you
Maintenant je suis devenu comme toi
My lips feel warm to the touch
Mes lèvres sont chaudes au touché
My words seem so alive
Mes mots semblent si vivants
My skin is warm to caress
Ma peau est chaude à caresser
I'll control and hypnotise
Je vais contrôler et hypnotiser
You taught me to lie without a trace
Tu m'as instruit à mentir sans laisser d'indice
And to kill with no remorse
Et a tuer sans laisser de remords
On the outside
De l'extérieur
I'm the greatest guy
Je suis le meilleur des mecs
Now I'm Dead Inside
Maintenant je suis mort à l'intérieur
Clip de Dead Inside
Le clip de Dead Inside est disponible depuis le 28 avril 2015.
Dans le clip, on aperçoit les danseurs Will B. Wingfield & Kathryn McCormick mis en scène par Tessandra Chavez. Le clip est réalisé par Robert Hales.
Lors de sa sortie le 23 mars 2015, Muse a offert une version lyrics aux fans :